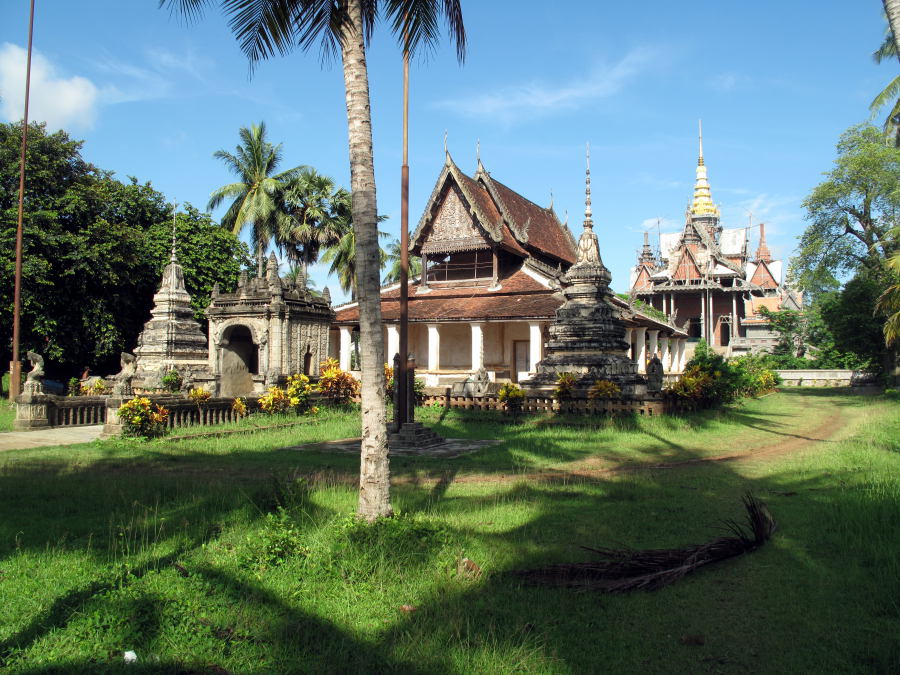 The old chapel of Wat Somrong Knong with the new one in the background
The temple of Somrong Knong is just six kilometers north of Battambang. The temple was seized by the Khmer Rouge in 1976 and turned into a prison. At least 10,000 people were put to death in all manner of grisly fashion here, and it's reported that the warden even introduced cannibalism, putting prisoners to death and then eating parts of their body. A memorial near the temple follows the usual lined for these things in Cambodia, with stacks of skulls displayed in the windows of a large reliquary. The one unusual aspect is the two-tier base with reliefs in concrete depicting the various crimes of the Khmer Rouge, especially the various forms of torture and execution.
Of the temple itself, the old building that was used as a prison is more or less abandoned, although the exterior is still in good enough shape to see that it once was quite exquisite. Of special note is the elaborate eastern gateway. There are several funerary monuments in the grounds, including one large Khmer style tower whose base has crumbled away, leaving the top balanced somewhat precariously.
A new chapel is being built in the grounds, as the old chapel cannot be re-consecrated.
There is no admission to the temple or the killing fields memorial at Wat Somrong Knong.