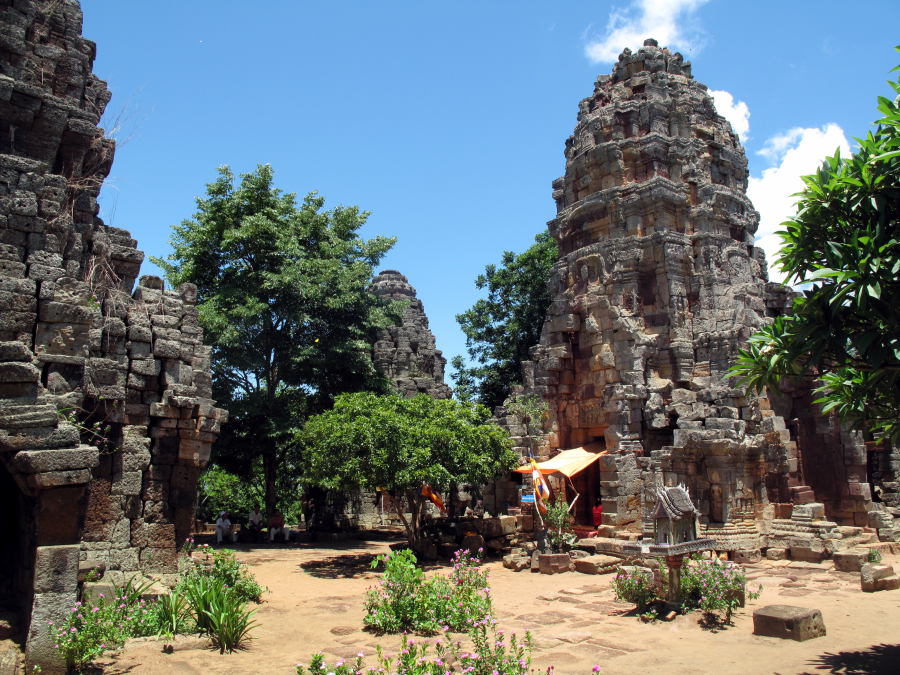 The central tower with a shade over the modern altar
Banan Hill, or Phnom Banan, is a small hill about 400 meters high around 21 kilometers south of Battambang. Atop the hill is the province's best preserved Angkor era temple, Prasat Banan. A grand stone staircase leads up the side of the hill to the temple. There are 358 steps, so be prepared to sweat.
The temple complex consists of five towers arranged in a cruciform pattern. It was started in the mid-eleventh century but left unfinished until around the turn of the thirteenth century. There are some fine reliefs that can still be seen on the sides of the towers.
A almost unmarked path leads down from the temple to the caves. It seems like the hill is almost hollow. The path is behind the tower on your left as you stand near the stairway up the hill. The route down is quite rough, and you have to jump or slide down some large boulders along the way. The entry is almost at the base of the hill. The caves consist of several chambers. There are cracks in some that let in sunlight, but you'll need a light. There's usually someone at the mouth of the cave to rent them to you if you didn't bring one. Oh, and there are also a few bats. Fortunately you don't have to climb back up the way you came. From the caves, an easily walked path leads around the base of the hill back to the food stalls near the stairway. Note that portions of the hill have not been demined, so stay on the paths.
Admission to the temple is US$2. There are usually a few young boys hanging around the stalls at the base of the stairs, who will follow you up, and even fan you to keep you cool. They can be quite useful for showing you around, especially the route to the caves. Tip them a dollar or two for their services.