Candidasa (also spelled as two words - Candi Dasa) is one of those surprising 'unknown' destinations around Bali. It doesn't figure large in most guidebooks, but it does have a surprising number of small resorts and an even more surprising number of great restaurants. More importantly, for me, it feels more like the 'real' Bali, with lots of locally owned businesses with local employees (the majority of workers in South Bali tourist businesses are from elsewhere in Indonesia) and Balinese people going about their daily life, more or less ignoring the few tourists. In the early morning, you can see the little traditional fishing boats land on the small boat ramp near the lake, where the wives of the fishermen take the catch up to the sidewalk for sale. The one significant drawback to Candidasa - for some at least - is that there's no beach to speak of. The coast here is very rocky rather than sandy, so while many of the resorts have an ocean view, they don't have a sandy beach to lie on. For me, the other, positive, aspects of Candidasa far outweigh this one shortcoming.
Map of Candidasa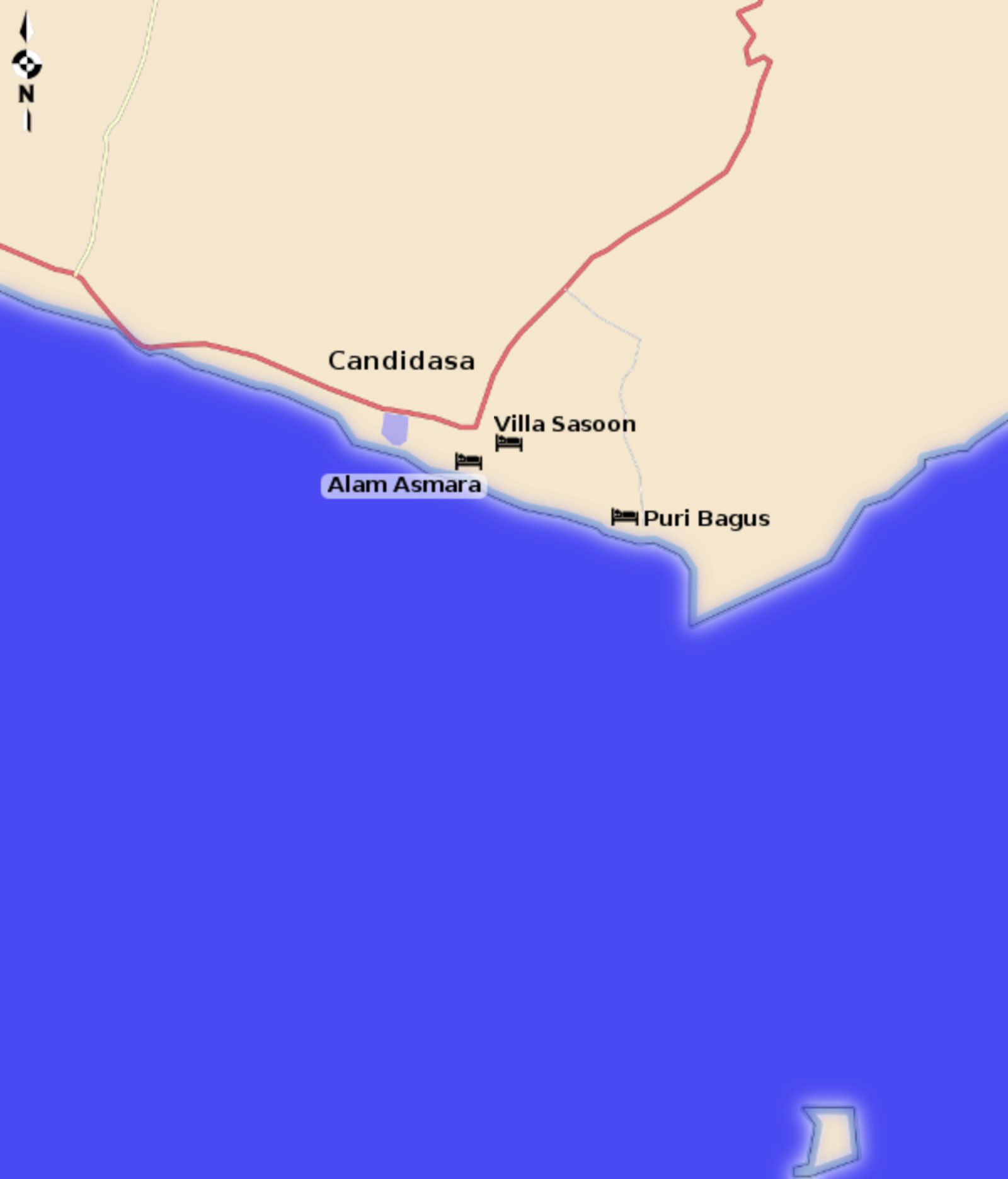 Click on any of the icons for more information.
Candidasa lies along the coast on a south-facing beach area near the very eastern tip of Bali. The main road circling the island runs through the center of town, before making a sharp turn inland to head up to Amlapura. Not far from where the road turns is a small lake which lies between the road and the ocean, created by trapping water running off the mountain on the other side of the highway. There is a temple on the side of the mountain as well. The area's hotels, resorts and restaurants are all located along this main road or on some small side-streets leading off it towards the seafront.
Candidasa makes a great base for exploring the sights of east Bali, which include the 'mother temple' at Besakih, the Goa Lawa 'bat cave' temple, and the water palaces at Tirta Gangga and Ujung. For scuba divers, the popular Tulamben Bay dive sites are just an hour or so drive away, while most boats for the offshore sites around Nusa Penida leave from Padang Bai just 15 minutes drive away. There are several dive shops in Candidasa as well.