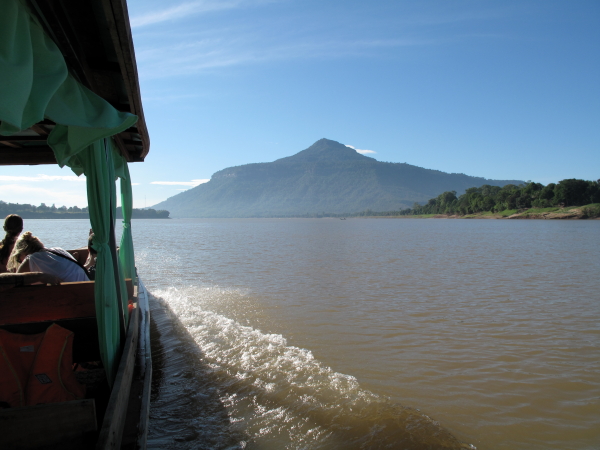 A view from the boat on the way from Pakse to Champasak.
Getting to Champasak from either the nearby destinations of Pakse or the 4,000 Islands is relatively easy. Your options basically come down to boat or bus.
Boat is a popular option. From Pakse, the trip takes only about one and a half hours and costs 70,000 Kip (8.40 USD). The trip can take a lot longer going from Champasak to Pakse, so many people opt for the bus option going that direction. Between Champasak and the 4,000 Islands is a much longer trip, taking about three hours downriver or five hours back.
Bus is actually a faster and cheaper option. To or from Pakse, the trip takes just around an hour and costs 50,000 Kip (6.00 USD). Note that the bus arrives and leaves from the ferry terminal on the opposite side of the river from Champasak. If you book your trip through your hotel or guesthouse, they will usually include the tuk-tuk trip to the ferry landing as well as the ferry fee. To and from the 4,000 Island area, the trip is about two hours but the cost is about the same.