The mouth of the Hlaing (Yangon) River has been occupied for more then 2,500 years. The village gained fame after the construction of the Shwedagon Pagoda on the highest ground in the area. The modern city of Yangon was founded by King Alaungpaya in 1755 when he captured the village called Dagon from the Mon. The city was called Yangon, meaning "end of strife". This was later changed by the British to Rangoon, under whose rule the city took on a larger commercial role as the primary port of occupied Burma.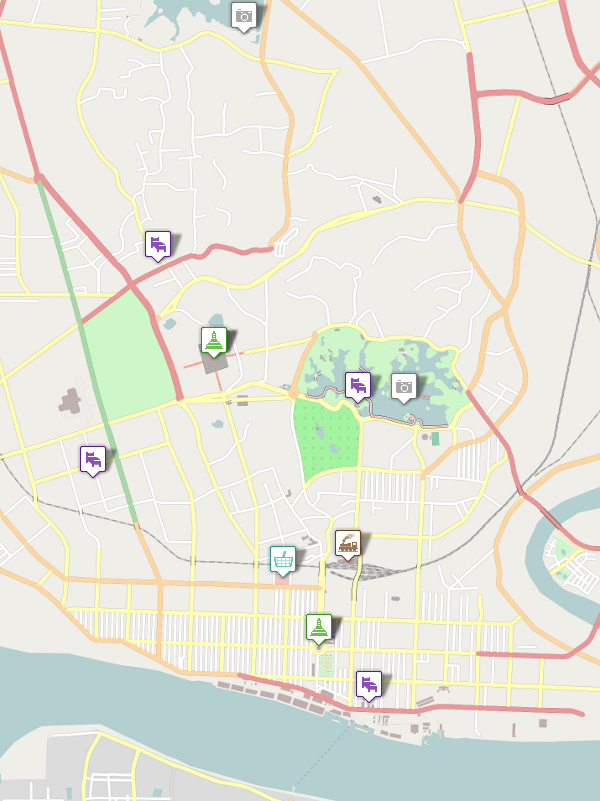 Click on a icon for more information.
Base map image © OpenStreetMap contributors, CC BY-SA
What to See in Yangon
The place to start any tour of Yangon is near the waterfront, at the Sule Pagoda. The temple had long been the heart of the city, so the British used it as the exact center when establishing the Victorian grid plan of streets in the mid-nineteenth century. The pagoda was probably built around 230 BC.
On the waterfront east of the Sule Pagoda the Strand Hotel. Built in 1901, the Strand was part of a string of hotels founded by the Sarkes brothers to serve the upper classes of the colonial powers. Their other properties include the Eastern and Oriental in Penang, Malaysia and Raffles in Singapore. Further east along the waterfront is the Botataung Pagoda, established nearly 2,000 years ago by Indian monks.
North of the city center rises the golden spire of Shwedagon Pagoda. The pagoda is nearly as old as Buddhism itself, and is the most important religeous shrine in all of Myanmar. East of the Shwedagon is the Kandawgyi, or Royal Lake. The shores of the lake are a huge park which includes an aquarium and the fantastical Karaweik Restaurant, in the shape of a huge Burmese royal barge.
Further north is the large artificially created Inya Lake. Like the Royal Lake, the shores of Inya are home to extensive parks. The area around the lake is also home to several artisans and shops selling decroative items for the home.